Studies have shown that extracurricular activities help children thrive socially and academically.
The benefits include:
increased self-confidence and self-esteem
higher academic success
better time management skills
improved social and leadership skills
reduced stress
Whether you've got a toddler, a teen, or a few in between, we've got information on a wide variety of programs, listed for you in this guide.
Click on the name of the following local businesses, to learn more about them.
You'll read about the services/products they offer, contact information, and customer reviews.
---
A guide to active, educational, and fun activities.
Updated August 2021
Looking for a calendar of local events?
Get your FREE Subscription to our weekly email, featuring local news, upcoming events calendar, and guides emailed directly to you! Sign up here!
Dance and Active:
FALL Programs at In Motion Company, Dance and Recreation:

Our Company Team is back!
If you feel competitive but want to be part of a safe, non-judgmental, supportive environment and with qualified instructors that not only strive for professionalism but for children & teens self confidence & wellbeing, this team is for you!
👉🏻Auditions, Sep 18th, 2021.
contact Miss Amanda at imcompanydirector@yahoo.com
FALL Class Registration:
http://imcdancelearncreate.com/
Classes for all ages, for beginners, and experienced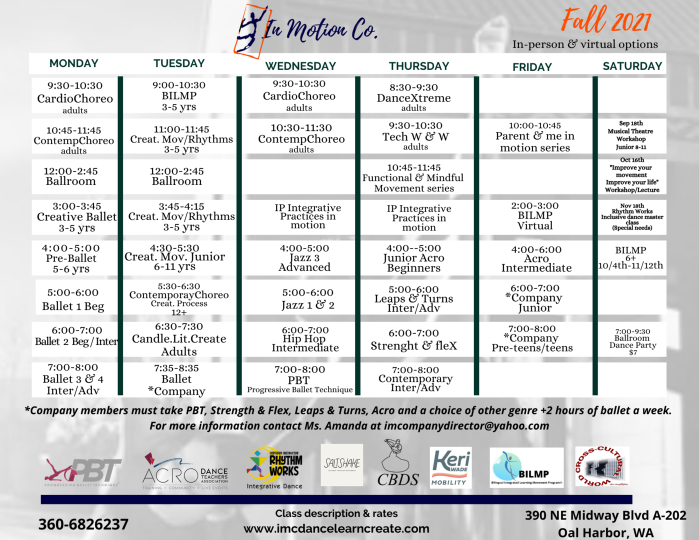 ---
Rise Dance Team Auditions (Oak Harbor)
August 21, Electronic Audition Forms Due
August 23, Audition Fee Due
August 23-27, 1:30-3:30pm, Dance Team Auditions
Contact Rise Academy for more information.
Ages 4 - 18
https://riseacademyofarts.com/
Music Together of Oak Harbor is now registering for their Fall session!
Have you ever wondered what you can do to nurture the musical growth of your child, regardless of your own musical ability?
Check out their website to learn more about this special program for families with young children:
Join our mixed-age class for children from 0 to school age and their grownup! Be a family that makes Music Together® with song, chant, instruments, and movement.
The mixed-age allows siblings to participate together and for you to see music through the lens of beautiful young eyes. See the babies babble along with the music, the 1-year-old sit in wonder and then begin to find their own way to expressing what they feel.
See your children learn to move to music and celebrate and rhythm and tones they hear. Be a part of the joy that comes with making Music Together.
Several classes and class times to choose from!
https://musictogetherofoakharbor.com/
Local Sports Clubs:
North Whidbey Soccer Club
wys-nwsc.affinitysoccer.com
**Also has soccer for tots. Contact them for the current schedule.
Central Whidbey Soccer Club
Girls, boys and co-ed teams are offered, with openings from U8 to U15.
South Whidbey Youth Soccer Club
Ages 4 to 18
Central Whidbey Little League
centralwhidbeylittleleague.com


Whidbey Volleyball Club youth ages 10-18
www.whidbeyvolleyballclub.com for more information!
Tiny Troops of NAS Whidbey and Oak Harbor
(Open to military and civilian youth)
Not Currently Open - Click their Facebook page for updates.
https://www.facebook.com/tinytroopssoccer
TTS® is a soccer program for 1-8-year-olds that introduces children to the game of soccer while developing gross motor, social, and listening skills.
Lam's Golf and Mini-Golf Is Now Open:
Lam's is a par three, nine-hole golf course located on North Whidbey Island near Deception Pass Park.
Lam's also has an 18-hole vintage mini-golf course, perfect for entertaining children and adults alike.
Our Par 3 Whidbey golf course is excellent for beginners and those seeking to improve their short game.
Lam's is ideal for many occasions - including birthdays, anniversaries, family gatherings, first dates, private rentals or just enjoying some time off to relax and play a round of golf.
Preview the course and get more information: https://www.lamsgolflinks.com/
Updates: https://www.facebook.com/lamsgolflinks/
The Clubhouse and Mini-Golf hours:
NOTE: Mini-Golf is open only during clubhouse hours.
9 a.m. to 5 p.m. Monday through Friday
9 a.m. to 6 p.m. Saturday and Sunday.
The Clubhouse offers an assortment of candy, snacks (nuts, chips, beef jerky and more), beer, hard cider, hard seltzer, soda, and teas.
Lam's PAR 3 GOLF COURSE: OPEN 24/7 Year-Round
Lam's Golf Links often operates under an honor system for the PAR 3 Golf Course.
If no one is in the Clubhouse, we have a pay booth available outside or payment through Venmo.
The pay booth only accepts cash or checks, no credit or debit cards.
Oak Bowl & Mario's Pizza
oakbowl.com/marios-pizza

"Fan" them on Facebook
The Backyard of Langley
Visit them on Facebook
thebackyardwhidbey@gmail.com
(425) 299-4178
CAM Ballroom Dance Studio of Oak Harbor
camballroomdancestudio@gmail.com
(360) 202-2659
Island County's only center for partner dance education, dancing, and teacher and competition training.
We offer the following classes:
Youth classes, group and private lessons, instructor training, and wedding dances.
Classes are in ballroom, Latin, swing, country, and some nightclub dances.
Children's private lessons: Ages 6 - 8 (30 minutes)
Youth group and private lessons: Ages 9 - 18 (Age-appropriate grouping)
Adult group and private lessons
In Motion Co. Dance and Recreation of Oak Harbor
Current class schedule: Imcdancelearncreate.com
inmotioncompany@ymail.com
(360) 682-6237
In Motion Co. offers a Dance Center, a Learning Center, and a Recreation Center, with classes and activities for ages 3mos and up, teens and adults.
Bi-lingual and Special Needs programs available.
We offer a variety of private and group classes and activities that promote health, mind-body connection awareness, creativity and learning.
Registration is open all year round
10% off for Military families for 2 + classes a week
BILMP Bilingual Integrated Learning Movement Program
Ages 6 to 10 Years
Kids learning Spanish!
(360) 682-6237
in-studio & virtual lessons!
http://imcdancelearncreate.com/
Movement, music, cultural immersion, and fun with native speakers!
Rise Academy Of Arts of Oak Harbor: Offering creative movement, tumbling, ballet, tap, jazz, hip hop, and lyrical. risedanceraa@gmail.com https://riseacademyofarts.com/, (360) 682-2188
Whidbey Island Dance Theater of Langley: A non-profit pre-professional dance performance company. http://Islanddancestudio.com, (360) 341-2221
Morrison Gymnastics Academy of Mount Vernon
MorrisonGymnastics.com or facebook.com/washingtongym/
(316) 655-3014. Tumbling and Gymnastics: All ages/levels and competitive team gymnastics
Maines Taekwondo of Oak Harbor
mainestaekwondoitf@gmail.com
(360) 672-1040
Maines Taekwondo offers traditional international Taekwondo.
Some of the benefits of Taekwondo include coordination, self-confidence, increased flexibility, and self-discipline, all while learning traditional martial art self-defense.
It keeps the body and mind active, and can be a great way for leadership skills and self-confidence to grow, as well as providing a healthy social outlet.
We offer the following classes:
Ages 4-12: Children Beginner and Advanced Classes
Ages 12 +: Adult Beginner and Advanced Classes
Karate Oak Harbor
Call or text 360-420-0527
Are your kids interested in Martial arts?
Want them involved in a sport that involves discipline and respect?
We are accepting new students, Please make an appointment to book your two free classes.
Hideaki Zakimi from Okinawa Japan is our instructor of Okinawan karate and kobudo Training.
We speak English. Se habla Español, 日本語話せます。
Whidbey Island Martial Arts Taekwondo of Oak Harbor
Please visit our website for the current class schedule
(808) 990-7530
Taekwondo for ages 3 and up!
Co-ed Krav Maga for ages 13+
Our "Core Values" instill leadership ability, confidence, and other valuable tools for life. No matter how far you or your child may actually pursue martial arts once you've started, one thing is clear. Life skills and values can be learned and strengthened by taking classes.

For youth (and adults), the instructors seek to build a relationship with their students, to be accessible, and mentor them to become each individual's "Best Self".

Adults can begin martial arts as a way of improving their physical condition and acquire self-defense skills.
Click Music Retail and School of Music:
Lessons, Instrument Sales/Repair/Purchase, and Accessories

https://www.facebook.com/clickmusic.biz/
360-675-5544

All of our instructors are full-time professionals or college students majoring in music education.
Students are offered frequent performance opportunities for which our Studio Accompanist helps them prepare.

Lessons: Please call us for current lesson availability and cost.
Music instruction for Bass Guitar to Violin and most instruments in between is available.
Meet our instructors: http://clickmusic.biz/15/School-of-Music/
Music Together of Oak Harbor:
Look forward to FALL Registration
Updates at https://musictogetherofoakharbor.com/register.aspx
Best Foot Forward Learning Support Center of Oak Harbor
We also offer Conflict Resolution / Mediation Support and Service, for families or individuals.
Click here to visit our website
(360) 682-6154
Is schooling this year a challenge?

Or does your child need someone to answer questions as they work, to inspire them to "work smarter, not harder?"

Would you like to separate homework struggles and stressful emotions from the relationship with your child?

Best Foot Forward Learning Center is for You!

Experienced teacher and certified conflict resolution and mediation, Jennifer Lieurance, loves being a part of a student's success.

She brings twenty years of teaching a variety of grades and learning circumstances, ready to be of service to your family.

Jennifer will help you navigate the challenges of school and homework.
$12/Hour, or 10 Hours, Pre-Paid, for $100
They also offer Conflict Resolution / Mediation Support and Service, for families or individuals.
Website: https://www.bff-98277.com/index.html
Facebook: https://www.facebook.com/bff.learning98277
(360) 682-6154
Sylvan Learning of Oak Harbor
Click HERE for current specials and classes, services, assessment, and tutoring
ohsylvan@gmail.com
(360) 675-8010
Call, text, or email to find out about the current services and reserve your child's spot today!
"Wonder and Explore Early Childhood Learning":
Are you the parent of a preschooler, ages 3 - 6?
Would you like to, yourself, help grow the inquiring mind of your child?
Meet Wonder and Explore Learning.
In addition to the curriculum, you and your child will enjoy social, active, and varied learning experiences - each week, getting to know and learning along with a community of preschool families.
Your child will receive a monthly "Wonder Box", full of educational, reading, and creative resources.
https://whidbeyisland.macaronikid.com/…/wonder-and-explore-…
South Whidbey Parks & Recreation: Camps, classes (including sports/swimming), etc. http://swparks.org/
Oak Harbor Boys and Girls Club:
Call for program details.
360-240-9273
Coupeville Boys and Girls Club:
Call for program details.
Ages 4 - 13
Call (360) 678-5640
Girl Scouts:
Ages K-12
Island County 4-H
Clubs: Animals, Engineering/Technology, Environmental Stewardship, Expressive Arts, Family/Consumer Sciences, Plant Science and Social Sciences
Ages: 5 to 18
For a list of local clubs: Contact the WSU Extension Website or 360-679-7328
Cub Scouts:
Teen Leadership Club:
teenleadershipic@gmail.com.
Information can be found at https://goo.gl/3KnPmU
Whidbey Island Youth Rifle Team
Boys & Girls, 7th through 12th Grade
Call Coach Dave Goodman: 360-678-1602
John Vanderzicht Memorial Pool (Oak Harbor Pool) Is Open
Reservations Required: For updates on pool availability and hours:
Facebook.com/northwhidbeypoolparkandrec
* Reservations may be scheduled up to two weeks in advance.
Call 360 675-7665 or go to their website to schedule your swim time
Mother Mentors of Whidbey Island:
Meet/Info at Mother Mentors of Whidbey Island on Facebook
360-321-1484
Our events are FREE and open to all Whidbey Island families.
MOMS Club of Whidbey Island
Facebook.com/momsclubofwhidbey
Momsclubofwhidbey.wixsite.com/momsclubofwhidbey
momsclubofwhidbey@gmail.com
MOMS Club of Whidbey Island is a sisterhood offering moms support, friendship, and laughter, all with kids in tow!
(MOMS = Moms Offering Moms Support)
Sno-Isle Library's Programs and Events:
Visit the Website of your Sno-Isle Library, Click "Events and Programs"
Equestrian:
Equestrian Crossing, in Oak Harbor: http://equestriancrossings.org/
Trails End Stables: https://www.go-washington.com/Trails-End-Stables/#.
Wildwood Farm: http://www.wildwoodfarm.com/
Whidbey Island Trail Rides (Langley):https://www.go-washington.com/Whidbey-Island-Trail-Rides/
Lil Huuffer's Pony Party, Camps, etc (Oak Harbor).: https://www.facebook.com/Littlehuufersponyparties/
Grace Follows Performance Barn (Oak Harbor): https://www.facebook.com/Grace-Follows-Performance-Barn-187846121258330/
Harmony Hill Stables (Freeland): https://www.harmonyhillstables.com/
Anacortes Lacrosse Club: No experience necessary. Come out and join this awesome team sport! http://anacorteslacrosse.uslaxteams.com/
"Virtual" Activities and Resources:
Swanson's Nursery of Seattle Online Gardening Resources: https://www.swansonsnursery.com/nw-gardening-tips
Become a National Parks Junior Ranger: https://www.nps.gov/kids/online-activity-guides.htm
Washington St. Parks Junior Ranger Activities: https://parks.state.wa.us/917/Junior-Ranger-Program
Turn shared, everyday moments into Brain Building Moments with VROOM (Birth to Five, FREE): https://www.vroom.org/
"Cosmic Kids Yoga": Recorded yoga videos for kids, FREE with YouTube, or purchase their app: https://www.cosmickids.com/category/watch/
Pacific Science Center: Curiosity at Home for All Ages (Live Facebook events, Live-Cams, videos, etc.: https://www.pacificsciencecenter.org/events-programs/curiosity-at-home/
Go Geocaching: https://www.geocaching.com/play
Ms. Ashley's Pre-School
(360) 679-2402
520 S.E. Pioneer Way, Oak Harbor
ms-ashleyspreschool@outlook.com
His Kids Preschool
His Kids Preschool, at Oak Harbor Lutheran Church.
Classes: MTW 9a.m. to 12p.m. or 12:45p.m. to 3:45p.m.
Questions about our play and learn program, please call 360-679-1561 or visit Oakharborlutheran.org
His Kids Preschool has been an important ministry of Oak Harbor Lutheran Church and the community since 1993. We serve as an outreach of the Christian Church to help children develop spiritually, physically, socially and emotionally with a readiness experience in preparation for school
For information on adding your activities to this guide,
please email eventsandinfo@comcast.net. Thank you!